Virtual Private Network VPN




Account Features

Basic VPN

Gold VPN

VPN Technology

Bandwidth Limits per month

Unlimited

Unlimited

IP

Shared IP

1 Private Dedicated IP

Web Control Panel

Encrypted Connection

Countries Available

USA

USA

Port

443

443

Server Port Speed

1 gigabit

1 gigabit

Monthly Payment (US$)

$2.50

$4.50

6 months Payment (US$)

$15.00

$27.00

Annual Payment (US$)

$25.00

$45.00
Why do I need a VPN:
You desire extra security from online bad guys and identity thieves.
You don't want your Internet service provider (ISP), or owner of a network you are connecting through, to be able to monitor and/or control your online activities.
You want to hide your IP address so you can protect your identity and location.
You don't want Google, Yahoo, AOL, and Bing recording, storing, and doing possibly creepy things with, every search you perform.
You use Wi-Fi Hotspots - Wi-Fi Hotspots, whether paid or free, are horrifically insecure.
You use the Internet at hotels or other shared hospitality or public networks.
You live in, or are visiting, a country that blocks Skype, Facebook, MySpace, poker-rooms, adult or other VoIP services.
You live in, or are visiting, a country that engages in Internet censorship or monitoring of content.
You wish to encrypt your VoIP traffic.
You want to use a service or application that is geographically restricted by IP address.
You simply desire extra privacy and security and want to round out your firewall and anti-virus protection for a complete security solution.
How VPN work?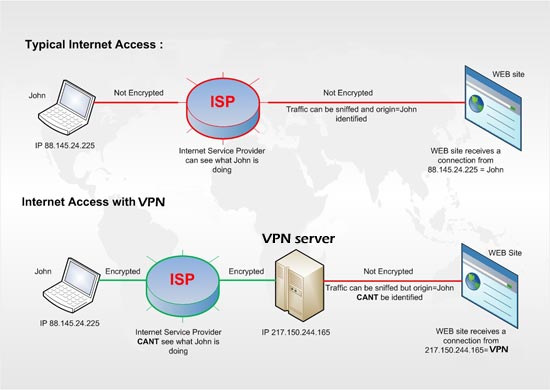 OpenVPN Access Server Features:
OpenVPN client support All Windows, Linux, Mac OS X, iPhone and Windows Mobile for Pocket PC.
Client Download
Legal P2P and Torrents Downloading Allowed With Unlimited Bandwidth
OpenVPN Based with 2048 Bit Encryption, 100% content encryption
Pre-configured OpenVPN Client Software.
Compatible with popular services such as Skype, Youtube , Facebook etc
Absolute Anonymity
Automatic Port Forwarding enabled servers for NAT-PMP supported applications
Alternative OpenVPN on port 443 (https) and Port 80 if your ISP blocks default openVPN port 1194
STRONG ENCRYPTION and 100% PRIVACY
OPENVPN on PORT 443 and 80 to BYPASS All RESTRICTIONS


How to: